When to use Jamstack and when not?
Intro
If you want to optimize your website to the highest level and gain a competitive advantage with both SEO and User Experience, Jamstack is definitely a great choice for building your website.
And yet, not always.
And although, as a Jamstack advocate, I would love to recommend it in any case, I just can't. Because the truth is – it depends.
In this article, I will try to answer probably the most pressing questions you may have:
should I use Jamstack at all?
what makes Jamstack such a good choice in my specific case?
what real advantages do I get by using Jamstack?
And of course, when you should avoid using Jamstack.
If you are not in the mood for reading, go ahead and watch the video: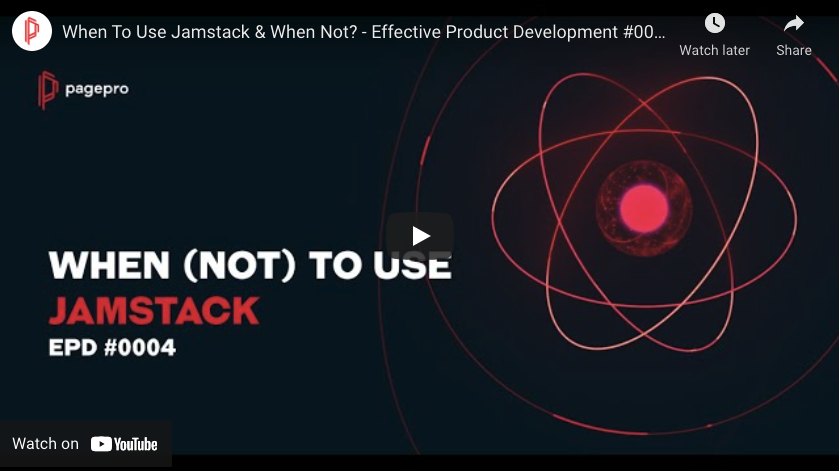 When to use Jamstack?
For the moment, you probably know all the pros and cons of Jamstack. Now it's time to get to the point – when and when not to use Jamstack.
Let's start with the best use cases.
eCommerce Websites
Having an e-commerce website comes with many challenges, and although the most important is related to SEO and User Experience, you may be also facing some early signs, that the idea to hire remote Jamstack developers and transition to Jamstack may be a good idea.
Technical e-commerce issues
Some typical "technical signs" you may experience with an outdated tech stack are:
The site works slow

when getting heavy traffic.
Your Google rankings drop, or stuck (or competition is doing better with less effort).
Other performance issues like page crashing with higher traffic, checkout blocked, etc.
But that's not everything. The flexibility to adapt and make changes could be an even bigger challenge on your way.
Flexibility in making changes
We always encourage our clients to think about buying experience, not as a finite thing (once done works perfectly), but more like a leaving creature that needs to be constantly updated and tested based on feedback and marketing assumptions.
The way we shop today changed a lot. We want things to happen faster and easier, so buying experience optimization may appear a real game-changer for your conversion.
And this is why we consider Jamstack as a great approach for e-commerce websites, as you can:
Quickly add new features, or edit the existing ones.
Improve the outdated checkout process faster and easier.
Enable your team to quickly and easily change copy, and test new concepts
And much more, together with different headless CMSs.
Need for heavy traffic and quality content
On top of that, having an e-commerce shop may also mean:
The need to use quality images, videos, or animations.
Handling heavy traffic generated from promo or ads campaigns.
The need to quickly build landing pages for such campaigns.
And that's again, what Jamstack can help achieve.
How can Jamstack help eCommerce websites?
| | |
| --- | --- |
| Image-heavy sites | Optimize image performance without a need for manual work. |
| High-quality websites | Jamstack is great for static pages, but it's doing perfectly with different kinds of interactive content such as videos, high-quality pictures, animations, etc. |
| Easy to scale and traffic-proof | You don't need to manage any databases or servers, nor depend on them. The CDN is all you need to have a performant e-commerce website that will let you have unlimited traffic. |
| Build quick microsites | You can easily and efficiently create small sites based on other websites, by using their parts and features like copy-paste. |
Ready to supercharge your web development with Jamstack?
SaaS websites and downloadable software
Two of the biggest challenges for SaaS and software companies are to gain trust and make a great first impression.
Both are related to each other, and both need a communication plan supported by somehow flawless technology to get decent results.
Great UX without compromising SEO
To be easily recognizable and to differentiate from their competitors, SaaS companies are using brand marketing that will highlight their original fingerprint.
They are also aiming to deliver an outstanding and unique user experience, and this is where Jamstack is a perfect fit.
First, Jamstack is giving you total customization freedom, which means you can build a website that truly represents your app possibilities, and resonates with your app users.
And second, even more cool, with Jamstack you can use the blessings of both Server-Side Rendering (SSR) and Static Site Generation (SSG) to achieve both great UX and great SEO results.
Is there anything else you need to build a great website for your product?
SaaS and Software content marketing
SaaS and Software companies are also using Content Marketing to help their clients make better decisions, and of course, to be with them at each possible stage of the decision-making process. They mostly use it to:
Be recognized as a field expert.
Become easier to find based on a specific problem/solution.
Simply, be helpful to raise their chances of being chosen.
Headless CMS
And although most of the content success is dependent on how well those companies understand the audience, there are also many struggles for marketing managers from the technical, and branding point of view:
The content cannot be served in a clear (or desired) way (customization limitations mentioned above).
Low performance is penalized by Google (important keywords cannot get higher in Google).
Marketers need developers to build (or rebuild) landing pages.
Marketers cannot run the efficient A/B testing (again, help is needed).
All those factors are somehow hugely underestimated and are now one of the biggest challenges on the way to become truly efficient.
However, if you take Jamstack, together with a headless CMS, you can create an ultimate content creation machine that will support your marketing efforts, without engaging anybody else in the process.
In this case, the ROI of such initiative is truly long-term and often pays off, especially if the competition seems to be in a better online position.
How can Jamstack help SaaS and software websites?
| | |
| --- | --- |
| Unlimited Customization | You are now able to deliver a truly outstanding User Experience to give a great first impression of your app or software. |
| SEO-efficiency | Your technical SEO efficiency is now on the highest possible level. |
| Supports Marketing Teams | Your Marketing Team is now able to work, build, rebuild, and test stuff independently, without constantly asking developers for help. |
B2B services and companies
B2B customers want someone they can trust with their money. Period.
Trust and professional look
They don't just buy stuff, they buy assets that they hope will pay them back, so building trust around those assets seems to be a reasonable direction.
Although (as with content marketing in the SaaS companies) the power is mostly in how well you can address your audience pain points, your trustworthiness and professionalism can be also elevated with a clean, and modern look, that will raise your chance to be chosen.
Handling heavy traffic
On top of that, whenever you do any advertising campaign, or whenever your offer goes viral, with Jamstack you can be sure your website won't go down (or drastically slow down) together with the heavy traffic.
So, similarly to the SaaS services, Jamstack is helping you to:
Scale the website's performance to keep pace with company's growth and success.
Let your content creators be able to easily publish or change content without any developer intervention.
Publish content in different languages more easily
Let Marketing team have a full control over building new pages
Handle a number of custom landing pages that you struggled to manage before
Rebranding and big changes
Using Jamstack as a B2B company is also a great idea when you are planning to do a rebranding, and believe this is also a good time for a bit more future-proof website.
Before switching to Jamstack, many clients wonder if they will lose their SEO potential together with the old website and content. The good news is, by implementing Jamstack, (if well optimized) it won't happen.
How can Jamstack help B2B services?
| | |
| --- | --- |
| Improve Conversion Rates | Because of super speed and elevated user experience, Jamstack websites are great for conversion optimization. |
| Quality Experience | Use any kind of rich content to engage your audience even more. Videos, animations, visuals, you name it. |
| Security | Your website is super safe thanks to its static nature – there's no direct connection between your pages and sensitive backend data. |
| SEO Efficient | Need better positions in Google? Get rewarded for being super fast and user-friendly. |
Custom landing pages
If you want to build custom landing pages for advertising campaigns, or just simply you have a new offer, and you want to make a quick page explaining it, quite often building such websites require technical/coding skills. Many times you will end up not doing it, as the work of developers is expensive, and should be focused on other, "more serious" stuff.
Building and optimizing pages fast
As a result, your marketing team is not able to work efficiently on trying new things and building new possible streams of revenue. On top of that, they won't be efficient in page optimization either.
What could that mean?
Page looks poor and does't stand out from the competition (or cannot be even that good)
Poor UX may make people leave your page in seconds
Painful and complicated content update may lead to frustration and poor work ethic
Poor integration with marketing and analitycal tools may lead to wrong conclusions and assumptions
Slow and not mobile-responsive page may get penalized in ads (low quality scores)
You may get penalized in organic Google search results as well
All of this may lead to a lower conversion rate and therefore lower revenue.
However, Jamstack is covering all those quite well.
You can use unlimited customization and super speed to enhance UX, and get better organic and advertising results, as well as combine it with proper CMS to make it super easy for the marketing team to build and optimize such pages.
How can Jamstack help with landing pages?
| | |
| --- | --- |
| Build pages fast | Combine Jamsatck with a headless CMS to build and optimize landing pages without a need for development skills. |
| Engage your audience more | Thanks to unlimited possibilities you can deliver a truly outstanding and much more engaging experience without compromising SEO potential. |
| Get better Google Ranks | Thanks to great SEO possibilities, Jamstack websites are rewarded by Google for being fast, lightweight, and easy to scan. |
| Become resistant to high traffic | With Jamstack, if your offer will go viral, or your advertising campaign will take off, you don't have to worry about a website crash caused by heavy traffic. |
When not to use Jamstack?
Like I already said in the first paragraph, sometimes Jamstack is not a good idea.
Think twice about using Jamstack if:
Your budget is limited – using Jamsatck means hiring skilled developers, which is costly in both, hiring internally, and outsourcing option. On top of that, if you want to rebuild your website to Jamstack, you should be aware of how complex this project is, and how many fundamental changes would have to be done.
You are not ready for big changes – In most cases, choosing Jamstack means also choosing new CMS, new look, rebranding, etc. As I've mentioned, such endeavour means lots of changes, is costly, so it is also a great idea while doind rebranding, or rebuilding the marketing strategy.
You don't have enough technical knowledge (or budget to pay for it) – coding is required as well as working with APIs to use full Jamstack potential. Yes, you can connect a website to CMS (which makes updates painless), but it still requires skills. If you don't have JavaScript or React knowledge, you should hire someone who has.
You are just starting out – Jamstack is not beginner-friendly when compared to such solutions as WordPress. Therefore, if you are a small company that wants to start a business online, something easier like WP might be a better option.
You want to use plug-ins – coding knowledge and specific skills are required to build Jamstack websites, and except for Gatsby, most of the technologies don't allow for using ready-to-use plugins to add new features without much coding.
Real-life examples of Jamstack websites
Examples of Next.js websites
Deliveroo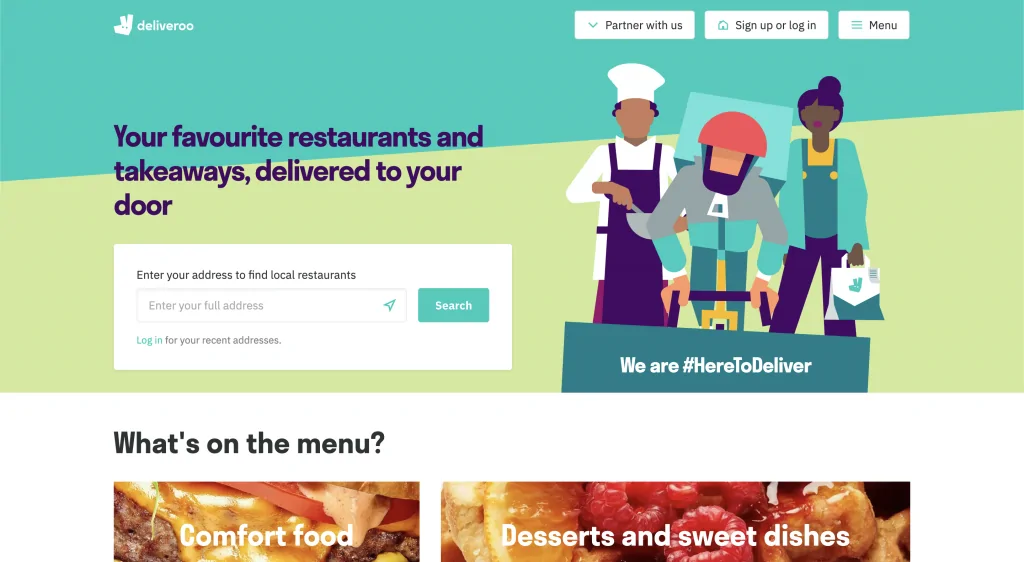 Marvel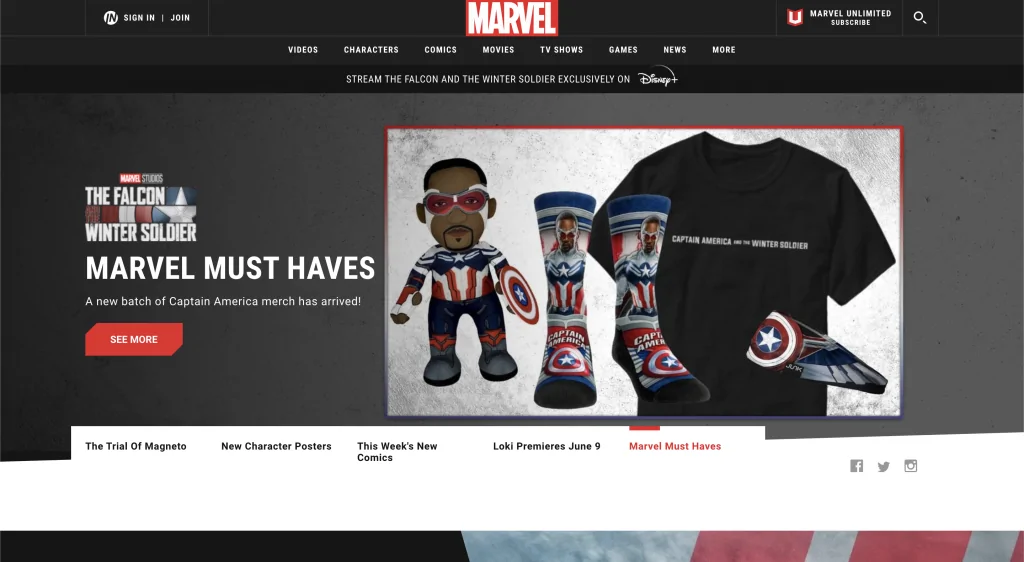 If you want more, check our article with examples of Next.js websites.
Examples of Gatsby websites
PayBright
AutoloadIT
AutoloadIT is also one of our previous clients (check the case study).
If you want more, check our article with examples of Gatsby.js websites.
Turn your web development dreams into reality with our Jamstack expertise.