What is Next JS and Why Should You Use it in 2023?
Introduction
One of the top benefits of learning what is Next.js, is the knowledge of how flexible you can become in building, and adapting to online reality.
Internally as the provider of Next js development services, we think it's the single most important advantage in a hyper-growing digital world, as we can quickly try and test our ideas. If we succeed, we can easily add new features and react to rapid changes much faster than ever before to stay competitive. If not, it's easier to rebuild the entire strategy and adapt accordingly.
Another thing is the way we buy today. That also went crazy.
We became much more demanding when it comes to page loading speed (in milliseconds!) and the user experience from using websites or web shops.
That creates a perfect opportunity for companies that decided to trust modern technologies, like React.js, or have chosen the way of the Jamstack approach.
It allows you to build both simple and complex web applications much faster, and easier, and thanks to many great frameworks that have grown upon it, you can now build blazingly fast websites to achieve a much better UX and SEO efficiency.
Let's have a look at one of those frameworks – Next.js, which enjoys growing popularity and quickly became the first choice for many big names and companies.
What is Next.js?
Next.js is a JavaScript framework that enables you to build superfast and extremely user-friendly static websites, as well as web applications using React.
In fact, thanks to Automatic Static Optimization, "static" and "dynamic" become one now.
This feature allows Next.js to build hybrid applications that contain both server-side rendered and statically generated pages.
In other words,
Statically generated pages are still reactive: Next.js will hydrate your application client-side to give it full interactivity.
This opens us many advantages like:
Rich User Experience (easier and faster)
Great performance (also easier and faster)
Rapid feature development
Next.js is widely used by the biggest and most popular companies all over the world like Netflix, Uber, Starbucks, or Twitch. It's also considered as one of the fastest-growing React frameworks, perfect to work with static sites – which was the hottest topic in the web development world lately.
Next.js and Jamstack
Next.js is now one of the most popular React frameworks for building superfast, and super SEO-friendly Jamstack websites.
It can be perfectly combined with headless CMSes, or eCommerce platforms to drive extraordinary performance and SEO results.
If you want to learn more, we always recommend starting with our guide – What is Jamstack?
On top of that, we made a short video that may help you decide whether you should use Jamstack architecture for your project, or not:
What can you build with Next.js?
With Next.js you can build a number of digital products and interfaces such as:
Jamstack websites
Web Portals
Static websites
SaaS products
eCommerce and retail websites
Dashboards
Complex and demanding web applications
Interactive user interfaces
And we love to use it in various projects since it gives us so many possibilities. Check out how it improved the e-learning platform we were recently launching for our customer – Learn Squared:
Next.js and User Experience
User experience plays a key role in the success (or failure) of digital businesses.

For example, if you have an online shop and you don't take care of UX properly, it will result in:
Losing customers
Abandoned carts
High bounce rate
The design is also important – if you are using themes or templates, the chances are someone out there has a similar-looking layout. It also means that you can't build a unique customer experience and improve it over time. Even if this means changing one simple thing like adding a button to the product page or deleting one.
Luckily – thanks to Next.js – you can build a fully customized user experience. Let's see what it really means.
UX freedom – you don't have to limit yourself to any plugins, templates, or any other restrictions dictated by eCommerce or CMS platforms. It gives you total freedom to customise the frontend anyhow you need or want. It also allows you to make creative changes without any limitations.
Adaptability and responsiveness – websites and web applications created with Next.js work on any device and adapt to any screen size or resolution. Therefore, users can access your website or web application with their favourite device.
Short page load time – Next.js websites are super-fast because they are static so visitors will be more than satisfied with the performance.
Data security – in the case of static websites there is no direct connection to the database, dependencies, user data or other sensitive information, which makes them perfectly safe.
All of these things mentioned above make the user experience as great as it can possibly be.
But the benefits of using Next.js don't end there.
Next.js and SEO
Another big reason to choose Next.js is its SEO efficiency.
It is using Server-Side Rendering (SSR) and at the same time, it can be also a great Static Site Generator (SSG).
In both cases, it will help you a lot with:
Growing organic traffic faster
Ranking your high-intent keywords higher
Outperforming competitors easier
Be more visible to potential customers
Next.js websites are super-fast, easy to scan, and provide a great user experience and that's why Google will favour them above others and rank them higher.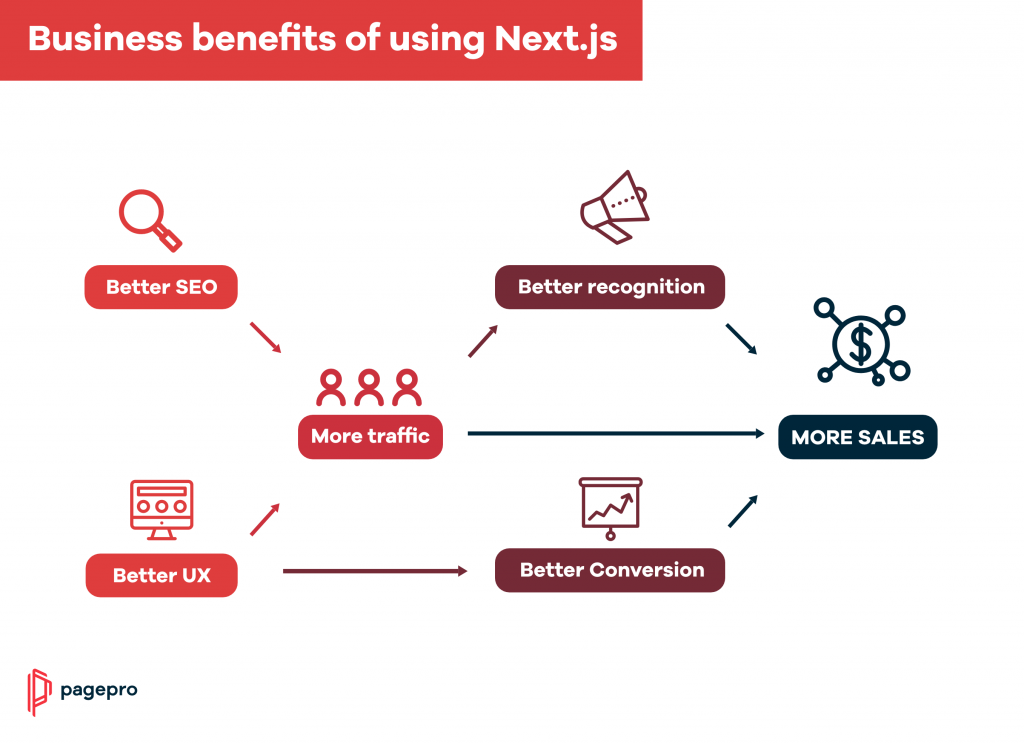 Pros and cons of Next.js
As with any other framework, some great options come with a price.
Let's have a look at the most popular pros and cons of using Next.js
Want to learn more about the pros and cons of Next.js? Check out this article.
Benefits of Next.js for online businesses
How Next.js can positively impact your business results and help you push your ideas further?
Faster time to market – many ready-to-use components and compatibility that come with it make building MVP much faster. Thanks to it, you can get feedback from real users quickly and make proper changes without wasting time and budget.
Enhanced User Experience – you have total freedom to create a front-end that fully aligns with your business goals and design vision. Thanks to it, the user experience is great and unique.
Increased organic traffic – Google loves static sites as they are fast, light, and easy to scan. This translates into higher positions of these websites in search results.
Fully omnichannel – Next.js websites and web apps work on any device, so they are accessible to everyone.
Support on demand – since Next.js is a React-based framework, it won't be difficult to find another frontend developer without a need of building everything from scratch once again.
Increased conversion rate – fast loading speed, better user experience and high accessibility convert into a higher conversion. If the users are happy with the customer experience they got, they are more likely to buy and come back later for more.
Community support – as Next.js is becoming a number one framework for many big brands, it's becoming more famous, and naturally, so the number of its contributors. That means, even if you face any issue, there will be probably a solution for that already.
Pros of Next.js for developers
Regardless of whether you are looking for benefits from a business perspective or a technical one, you will find some reasons to seriously consider choosing Next.js.
If you want to build a complex and demanding application, React development nature of Next.js allows for saving a lot of time. Developers especially favour features like:
Zero Config – Next allows you to focus on the business logic of your application instead of the application logic. And to help you, it provides automatic compilation and bundling. In other words, Next is optimized for production right from the start.
Incremental Static Regeneration – it allows you to update the pages by re-rendering them in the background as traffic comes in. So in other words, static content can become dynamic.
A hybrid of server-side rendering SSR and static site generation SSG – prerender pages at build time or request time in a single project.
TypeScript support – automatic TypeScript configuration and compilation.
Fast Refresh – fast, live-editing experience – edits made on React components are live within seconds. It works analogically to Hot Module Replacement (HMR).
CSS parsers – the possibility to import CSS files from a JavaScript file. New parses improved the handling of CSS.
Built-in Image Component and Automatic Image Optimization – this feature automatically optimizes images
Automatic code splitting – automatically reduces the size of the page by splitting the code and serving components only when needed. Modules can be automatically imported too, thanks to the dynamic import option.
Data fetching – this option allows rendering the content in different ways, accordingly to the app's use case. It can be done by pre-rendering with server-side rendering SSR or static site generation and by updating or creating content with ISR.
Release of Next.js 13: even more promising future
The list of Next.js benefits is growing with every release. In October 2022, Next.js 13 was introduced, together with a bunch of new features. The most important among them are:
Turbopack, the new Rust-based successor to Webpack brings: 700x faster updates than Webpack, 10x faster updates than Vite and 4x faster cold starts than Webpack
New next/image Component that ships less client-side JavaScript, making it easier to style and configure, more accessible with alt tags required by default, aligns with the Web platform and offers faster loading times through native lazy loading without the need for hydration.
New brand font system that automatically optimizes fonts, removes network requests for improved privacy and performance, offers built-in self-hosting for any font file, and ensures zero layout shift using the CSS size-adjust property.
And of course, Next.js App router – this new paradigm of building apps was released at the beginning of May 2023 [earlier was available as a beta testing version]. We can say it opens the doors to upgraded developer experience, rendering performance, and the mental model. This update brought new benefits, like:

Streaming app elements to the user – thanks to using React Server Components, app elements can be streamed to the customers in a blink of an eye, so they can interact with an app without waiting for the full load
Rapid render of the application using static rendering
Enhanced development efficiency thanks to the server-centring routing
Server Components allow you to define components that execute on the server during rendering and then stream updates to the client. This process provides benefits such as improved initial load times, reduced JavaScript bundle sizes, and improved SEO.
To learn more about the new Next.js, visit the Next.js official website.
Cons of using Next.js
The number of Next benefits is huge and clearly outweighs its cons. However, let's write them down to be as objective as it's possible.
Development and management – the flexibility, given by Next, has its cost – continuous management. To make all desired changes properly, you will need a dedicated person with proper knowledge. The good news is that this person doesn't have to be a developer.
Ongoing cost – since Next.js does not provide many built-in front pages, you have to create your own front-end, which will require changes from time to time. It means that you will have to pay a frontend developer to get the job done.
Lack of built-in state manager – so if you need a state manager in your app, you have to add Redux, MobX or something else.
Low on plug-ins – you cannot use much of easy-to-adapt plugins.
Examples of Next.js Websites
Here are just three of the great examples of websites build in Next.js.
You can also check out their official showcase for even more inspiration.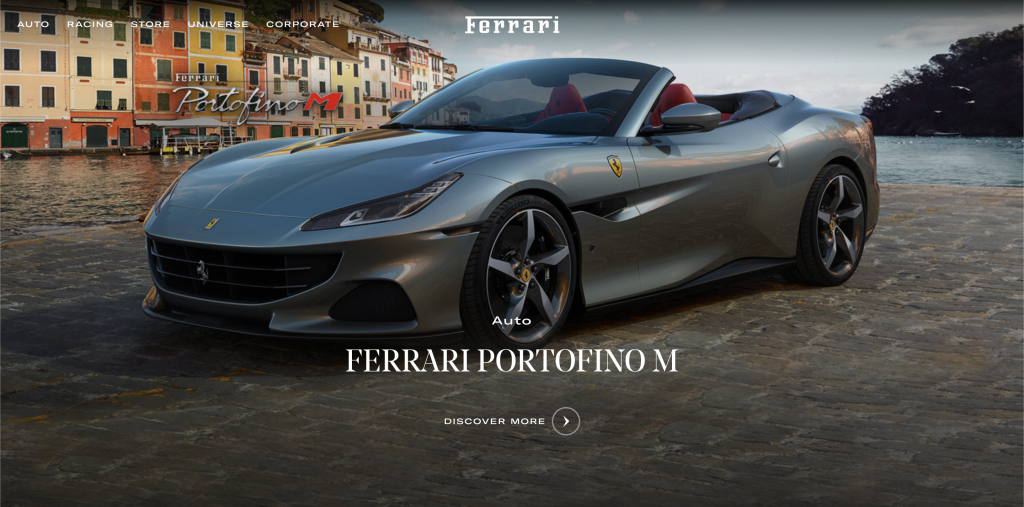 Summary
It doesn't matter if you are planning to build a huge and demanding app to serve millions of users, nor if you are a growing web shop on Shopify. In both cases, you can use the advantages of modern web technology to make your business more efficient online.
Uplift your page speed, SEO, and UX, and remember that technologies such as Next.js are making the web a better, cleaner, and more user-centric place. And that will always be favourable, not only to Google but, most importantly, to users.
Further readings
Still not sure if Next.js is the javascript framework you are looking for?
Hopefully, some of these articles will help you decide:
Business-wise:
Technology-wise: